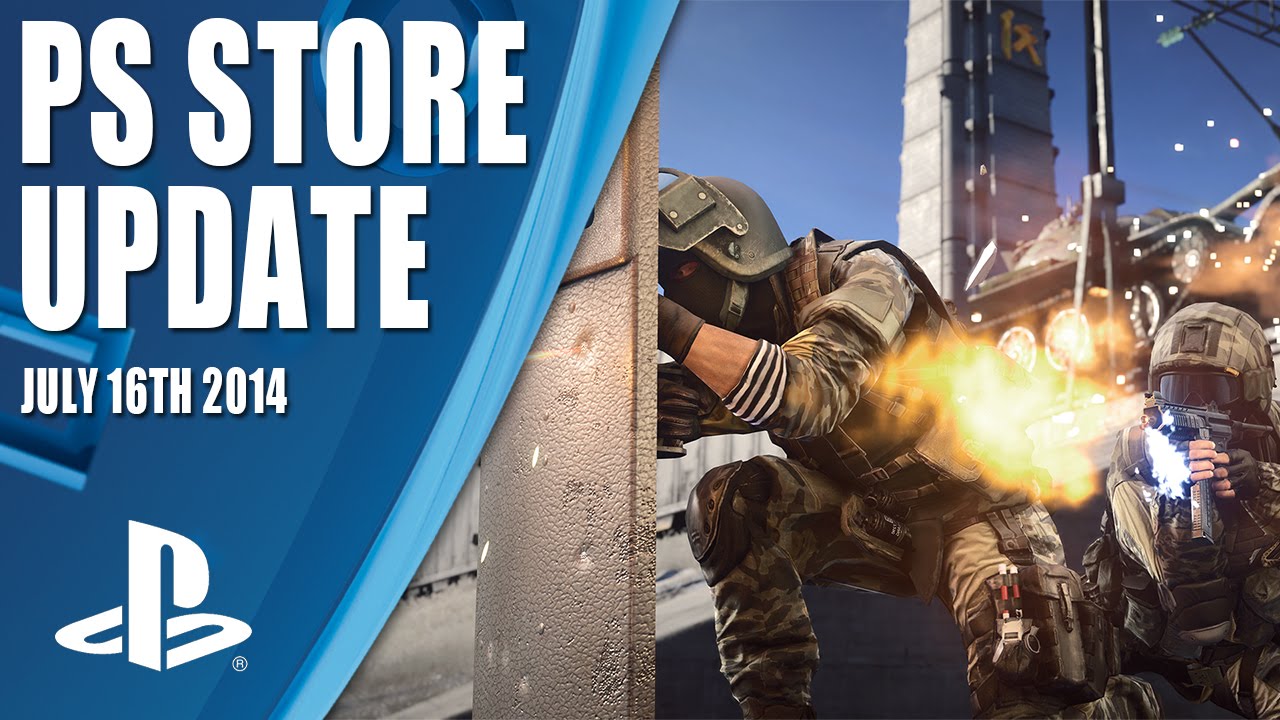 Et une promo sur Watch_Dogs !
Moins de 24 heures avant le lancement de la bêta de Destiny sur PS4 et PS3, êtes-vous prêts ? Sans transition, passons à la mise à jour du PlayStation Store de la semaine, une semaine plutôt calme. Sur PS4 on accueille le shooter Crimsonland avec un mode coop en local et des tonnes d'armes. Sur PS3, Abyss Odyssey viendra charmer les plus résistants à la 2D d'entre vous, le titre est simplement sublime !
Et surtout, aujourd'hui nous lançons officiellement les pré-commandes du PS Store pour The Last of Us Remastered sur PS4, alors que le titre vient de passer Gold.
Possesseurs de PS3, profitez aussi d'une promotion d'une semaine sur Watch_Dogs.
Nouveau Contenu PlayStation Network
Le contenu de cette liste est susceptible d'évoluer.
PS Plus

Abyss Odyssey – 30 % de réduction jusqu'au 23 juillet
Pré-commandes
The Last of Us: Remastered (PS4)
Prix : 44,99 €
Destiny: Digital Guardian Edition (PS4) (à partir de jeudi)
Prix : 99,99 €
PlayStation 4

Crimsonland
Prix : 9,99 €
PlayStation 3

Abyss Odyssey
Prix : 14,99 €

Mountain Crime: Requital
Prix : 14,99 €
PS3 démo
MotoGP 14
PlayStation Vita

Day D Tower Rush
Prix : 4,99 €

Z-Run and BreakQuest: Extra Evolution
Prix : 10,99 €
PS Vita démo
MotoGP 14
PlayStation Mobile
Grand Sun R.Y.E.Z (2,99 €)
Silver Zombie (1,79 €)
Highway of Death (2,29 €)
3D gems (3,99 €)
UFO Dad (2,29 €)
Neko Rush (1,29 €)
Alphabet Island (1,29 €)
PS4 DLC
Awesomenauts Assemble! – Ted McPain (1,49 €)
Awesomenauts Assemble! – Penny Fox (1,49 €)
Awesomenauts Assemble! – SUSI Announcer (3,99 €)
Awesomenauts Assemble! – Private Mels Skin (2,49 €)
Awesomenauts Assemble! – Ahrpl Skin (4,99 €)
Awesomenauts Assemble! – Cynical Vinnie & Total Spike Skin (2,49 €)
Awesomenauts Assemble! – Titanium Ted Skin (4,99 €)
Awesomenauts Assemble! – Party Boy McPain Skin (4,99 €)
Awesomenauts Assemble! – Digital G Skin (2,49 €)
Awesomenauts Assemble! – Desperado Penny Skin (2,49 €)
Awesomenauts Assemble! – Cheerleader Penny Skin (2,49 €)
Dragon's Teeth (membres Premium uniquement, sortie officielle le 29 juillet)
Dynasty Warriors 8: Xtreme Legends (Cross-buy PS4/PS3/Vita)
Nouveau stage 16 (1,99 €)
Nouveau stage 17 (1,99 €)
Weapon System Pack 4 (1,99 €)
Fun & Games Spotlight Moves Pack (1,99 €)
Hunter Weapons Pack (2,99 €)
Camouflage Weapons Pack (2,99 €)
Hunt The Grey Wolf (7,99 €)
Allied Reinforcement Outfits Pack (2,99 €)
Weathered Warrior Pack (4,49 €)
Captain America (déblocage) (2,99 €)
Civil War (déblocage) (2,99 €)
Excalibur (déblocage) (2,49 €)
Fantastic Four (déblocage) (2,99 €)
Mars (déblocage) (2,99 €)
Marvel Pinball: Vengeance and Virtue (déblocage) (9,99 €)
Zen Pinball 2: Super Street Fighter II Tribute (déblocage) (2,99 €)
Zen Classics (déblocage) (9,99 €)
PS3 DLC
Dragon's Teeth (membres Premium uniquement, sortie officielle le 29 juillet)
Dynasty Warriors 8: Xtreme Legends (Cross-buy PS4/PS3/Vita)
Nouveau stage 16 (1,99 €)
Nouveau stage 17 (1,99 €)
One Piece Unlimited World Red (Cross-buy PS3/Vita)
Nami Swimsuit pack (2,99 €)
Quest for money (0,75 €)
THE PINBALL ARCADE (Cross-buy PS3/Vita)
Pinball Arcade Black Knight 2000 Pinball Table (4,99 €)
Pinball Arcade Black Knight 2000 Pro Upgrade (4,99 €)
Pinball Arcade WHO dunnit Pinball Table (4,99 €)
Pinball Arcade WHO dunnit Pro Upgrade (3,99 €)
Pinball Arcade High Speed Pinball Table (4,99 €)
Pinball Arcade High Speed Pro Pack (7,99 €)
Pinball Arcade High Speed Pro Upgrade (3,99 €)
Pinball Arcade Junk Yard Pinball Table (4,99 €)
Pinball Arcade Junk Yard Pro Pinball Table (7,99 €)
Junk Yard Pro Upgrade (3,99 €)
Don't Look Back Into The Sun – The Libertines (2,99 €)
Can't Stand Me Now – The Libertines (2,99 €)
What Katie Did – The Libertines (2,99 €)
Deftones Song Pack (9,99 €)
Be Quiet and Drive (Far Away) – Deftones (2,99 €)
Change (In the House of Flies) – Deftones (2,99 €)
Digital Bath – Deftones (2,99 €)
Hole in the Earth – Deftones (2,99 €)
The Libertines Song Pack (7,99 €)
Hunter Weapons Pack (2,99 €)
Camouflage Weapons Pack (2,99 €)
Hunt The Grey Wolf (7,99 €)
Allied Reinforcement Outfits Pack (2,99 €)
Weathered Warrior Pack (4,49 €)
PS Vita DLC
Day D Tower Rush
Débloquer épisode (0,99 €)
Jurassic Period: débloquer niveaux (0,99 €)
Triassic Period: débloquer niveaux (0,99 €)
100 i-volve (2,49 €)
300 i-volve + 35 gratuit (4,99 €)
500 i-volve + 75 gratuit (9,99 €)
1000 i-volve + 200 gratuit (17,99 €)
Dynasty Warriors 8: Xtreme Legends (Cross-buy PS4/PS3/Vita)
Nouveau stage 16 (1,99 €)
Nouveau stage 17 (1,99 €)
Weapon System Pack 4 (1,99 €)
Mahjong Gold
17 Stars (2,99 €)
30 Stars (4,99 €)
5 Stars (0,99 €)
Muramasa Rebirth Gen. Leg. – A Spirited Seven Nights' Haunting (3,99 €)
One Piece Unlimited World Red (Cross-buy PS3/Vita)
Nami Swimsuit pack (2,99 €)
Quest for money (0,75 €)
Baisse de prix PS Vita
Resistance Burning Skies – Passe de 24,99 € à 19,99 €
Sly Cooper: Thieves in Time – Passe de 24,99 € à 19,99 €
The Jak & Daxter Trilogy – Passe de 29,99 € à 19,99 €
Tearaway – Passe de 24,99 € à 19,99 €
Uncharted: Fight for Fortune™ Complete Edition – Passe de 8,99 € à 4,99 €
Invizimals: The Alliance – Passe de 24,99 € à 19,99 €
Bonnes Affaires de la Semaine
Watch_Dogs (PS3)
Passe de 69,99 € à 49,99 €
Watch_Dogs Deluxe Edition (PS3)
Passe de 79,99 € à 59,99 €
MXGP – The Official Motocross Videogame Vita
Passe de 39,99 € à 19,99 €
Ethan: Meteor Hunter (Cross-buy PS3/Vita)
Passe de 9,99 € à 4,99 €