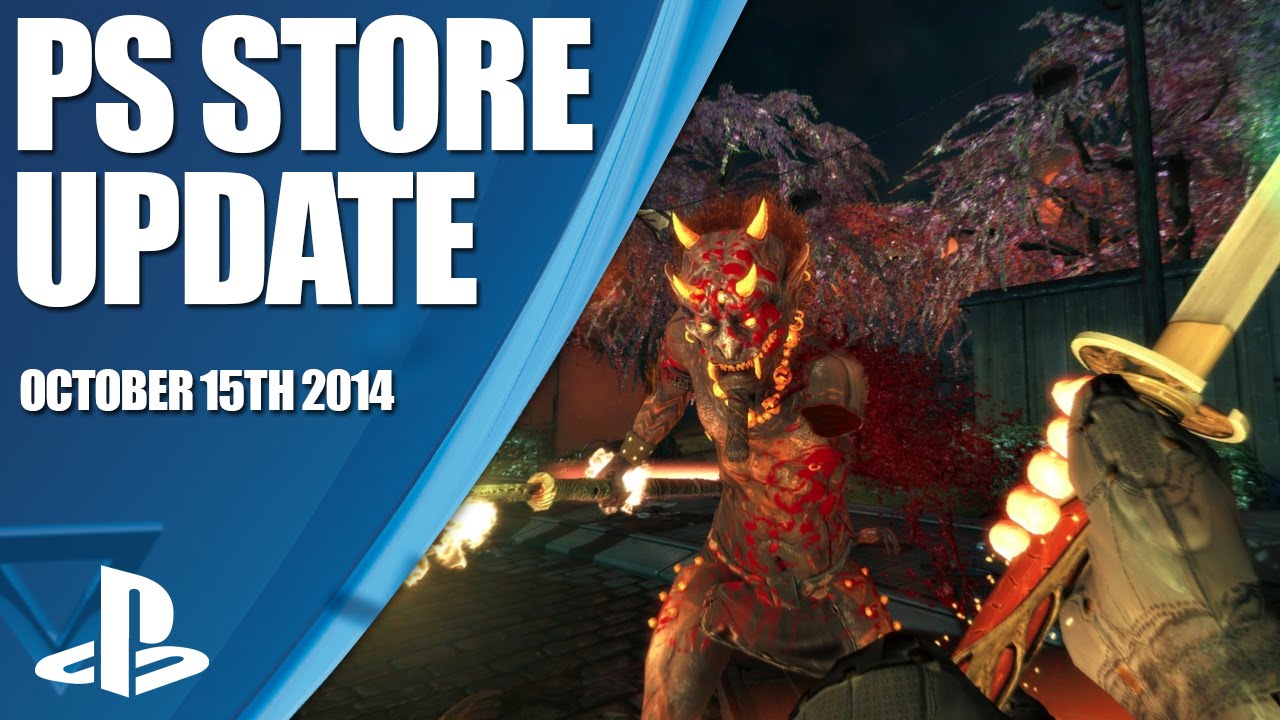 Les nouveautés de la semaine sur le PlayStation Store.
Enfin ! The Legend of Korra, le jeu vidéo développé par PlatinumGames (Bayonetta), fait son apparition sur PS4 et PS3. Utilisez les 4 éléments de l'Avatar Korra dans des dizaines de combos et découvrez ce qui s'est passé entre les livres 2 et 3 de la série animée.
Le remake de Shadow Warrior est enfin disponible sur PS4. Brandissez flingues et katana pour affronter les démons et vengez Lo Wang.
Ce n'est pas tout : Just Dance 2015, Race the Sun ou encore Fluster Cluck sont aussi de la partie parmi les nouveautés du PlayStation Store. Ainsi que bien sûr les bonnes affaires de la semaine avec Assassin's Creed IV Black Flag.
Nouveau Contenu PlayStation Network
Le contenu de cette liste est susceptible d'évoluer.
PlayStation Plus
Fluster Cluck – 40 % de réduction supplémentaire
Strength of the Sword – 80% de réduction supplémentaire jusqu'au 5 novembre
Pré-commande

EA SPORTS NBA LIVE 15 (PS4 – 69,99 €)
PlayStation 4

Battlefield 4 Premium Edition (69,99 €)

JUST DANCE 2015 (disponible le 23 octobre – 49,99 €)

The Legend of Korra (14,99 €)

Need for Speed Rivals: Complete Edition (69,99 €)

RACE THE SUN (8,99 €)

SAMURAI WARRIORS 4 avec Bonus (disponible le 24 octobre – 59,99 €)

Shadow Warrior (39,99 €)

Singstar (disponible le 24 octobre – Gratuit – Achat in-app requis)

Sound Shapes Ultimate Bundle (14,99 €)
PlayStation 3

Battlefield 4 Premium Edition (49,99 €)

JUST DANCE 2015 (disponible le 23 octobre – 39,99 €)

The Legend of Korra (14,99 €)

Need for Speed Rivals: Complete Edition (49,99 €)

RACE THE SUN (8,99 €)

Saints Row IV Edition Jeu du Siècle (29,99 €)

SAMURAI WARRIORS 4 avec Bonus (disponible le 24 octobre – 49,99 €)
PlayStation Vita

RACE THE SUN (8,99 €)

SAMURAI WARRIORS 4 avec Bonus (disponible le 24 octobre – 39,99 €)
PlayStation Mobile
Crossfire (2,79 €)
Robot-Escaper (1,29 €)
TryToSurvive (1,49 €)
EP Chain Reaction (Gratuit)
Hallowed Sky (1,49 €)
3D gems (3,79 €)
Candy, Please! (1,99 €)
GYRO DOT EAT (1,29 €)
PS4 DLC
Crew Expendable Contenu Bonus (3,49 €)
'Don't You Worry Child' by Swedish House Mafia (1,99 €)
'Gangnam Style' by PSY (1,99 €)
'I Need Your Love' by Calvin Harris Ft. Ellie Goulding (1,99 €)
'Roar' by Katy Perry (1,99 €)
'Till I Find You' by Austin Mahone (2,99 €)
'Beauty and a Beat' by Justin Bieber Ft. Nicki Minaj (1,99 €)
'Break Gratuit' by Ariana Grande Ft. Zedd (Gratuit)
'Die Young' by Ke$ha (1,99 €)
'Just Dance' by Lady Gaga Ft. Colby O'Donis (1,99 €)
'I Luh Ya Papi' by Jennifer Lopez Ft. French Montana (2,99 €)
'Moves Like Jagger' by Maroon 5 Ft. Christina Aguilera (1,99 €)
'One Way Or Another (Teenage Kicks)' by One Direction (1,99 €)
'Sexy And I know It' by LMFAO (1,99 €)
'Wake Me Up' by Avicii (1,99 €)
Donington Park British Grand Prix (3,99 €)
Complete DLC Pack (19,99 €)
Middle-earth: Shadow of Mordor
Middle-earth: Shadow of Mordor Test of Wisdom (2,99 €)
Middle-earth: Shadow of Mordor The Power of Shadow (Gratuit)
Sound Shapes Add-On Bundle (7,49 €)
Future Funk 3000 Sound Pack (0,99 €)
WO3U_DW7 ORIGINAL COSTUME PACK SET 1 (21,99 €)
WO3U_DW7 ORIGINAL COSTUME PACK 1 (4,99 €)
WO3U_DW7 ORIGINAL COSTUME PACK 2 (4,99 €)
WO3U_DW7 ORIGINAL COSTUME PACK 3 (4,99 €)
WO3U_DW7 ORIGINAL COSTUME PACK 4 (4,99 €)
WO3U_DW7 ORIGINAL COSTUME PACK 5 (4,99 €)
WO3U_SPECIAL COSTUME 1 (4,99 €)
PS3 DLC
AKIBA'S TRIP: Undead & Undressed
Swimwear Set (7,99 € ou 1,99 € chacun)
Crew Expendable Bonus Content (3,49 €)
Dead or Alive 5 Ultimate New Blood Character Set (13,99 €)
Dead or Alive 5 Ultimate New Blood Characters + Costumes (26,99 €)
DOA5U Nyotengu Character + Debut Costume Set (7,99 €)
Dead or Alive 5 Ultimate Nyotengu Debut Costume Set (12,99 €)
Fairy Fencer F: Secrets of Shukesoo's Tower 4 (Gratuit)
Fairy Fencer F: Weapon Change Accessory Set – Little Black (0,99 €)
Fairy Fencer F: Weapon Change Accessory Set – Reaper (0,99 €)
Fairy Fencer F: The Ultimate Armor! (0,99 €)
Fairy Fencer F: Armor Supreme! (0,99 €)
Fairy Fencer F: Divine Jewelry! (0,99 €)
Fairy Fencer F: Assortment of Rare Materials (0,99 €)
Fairy Fencer F: Fang's Swimwear Set (1,99 €)
Fairy Fencer F: Sherman's Swimwear Set (1,99 €)
Fairy Fencer F: Galdo's Swimwear Set (1,99 €)
Fairy Fencer F: Pippin's Swimwear Set (1,99 €)
Fairy Fencer F: Apollonius's Swimwear Set (1,99 €)
Farming Simulator – Modding Pack 2 (Gratuit)
Just Dance 2015
'Break Gratuit' by Ariana Grande Ft. Zedd (1,99 €)
'Don't You Worry Child' by Swedish House Mafia (1,99 €)
'Gangnam Style' by PSY (1,99 €)
'I Need Your Love' by Calvin Harris Ft. Ellie Goulding (1,99 €)
'Roar' by Katy Perry (1,99 €)
'Till I Find You' by Austin Mahone (2,99 €)
'Beauty and a Beat' by Justin Bieber Ft. Nicki Minaj (1,99 €)
'Break Gratuit' by Ariana Grande Ft. Zedd (Gratuit)
'Die Young' by Ke$ha (1,99 €)
'Just Dance' by Lady Gaga Ft. Colby O'Donis (1,99 €)
'I Luh Ya Papi' by Jennifer Lopez Ft. French Montana (1,99 €)
'Moves Like Jagger' by Maroon 5 Ft. Christina Aguilera (1,99 €)
'One Way Or Another (Teenage Kicks)' by One Direction (1,99 €)
'Sexy And I know It' by LMFAO (1,99 €)
'Wake Me Up' by Avicii (1,99 €)
Donington Park British Grand Prix (3,99 €)
Naruto Ultimate Ninja Storm Revolution
Complete DLC Pack (19,99 €)
Nothin But A Good Time – Poison (2,99 €)
The Stroke – Billy Squier (2,99 €)
Turn Up The Radio – Autograph (2,99 €)
Seventeen – Winger (2,99 €)
Holy Diver – Dio (2,99 €)
Sound Shapes Add-On Bundle (7,49 €)
Future Funk 3000 Sound Pack (0,99 €)
Spelunker HD Ultimate Edition (16,99 €)
Championship DLC Bundle: Areas 2-10 (10,99 €)
WO3U_DW7 ORIGINAL COSTUME PACK SET 1 (21,99 €)
WO3U_DW7 ORIGINAL COSTUME PACK 1 (4,99 €)
WO3U_DW7 ORIGINAL COSTUME PACK 2 (4,99 €)
WO3U_DW7 ORIGINAL COSTUME PACK 3 (4,99 €)
WO3U_DW7 ORIGINAL COSTUME PACK 4 (4,99 €)
WO3U_DW7 ORIGINAL COSTUME PACK 5 (4,99 €)
WO3U_SPECIAL COSTUME 1 (4,99 €)
PS Vita DLC
Destiny Orbs 500 + Super Rare 'Gaia' Spirit (21,99 €)
Destiny Orbs 1000 + Super Rare 'Gaia' Spirit (36,99 €)
Costume Set 1 (4,49 €)
Shinovi Hairstyle Set (Gratuit)
Japanese Dress (1,59 €)
Gym Clothes (1,59 €)
School Swimsuit (1,59 €)
Uniform & Swimsuit (1,59 €)
Uniform & Thigh Highs (1,59 €)
Sound Shapes Add-On Bundle (7,49 €)
Future Funk 3000 Sound Pack (0,99 €)
WO3U_DW7 ORIGINAL COSTUME PACK SET 1 (21,99 €)
WO3U_DW7 ORIGINAL COSTUME PACK 1 (4,99 €)
WO3U_DW7 ORIGINAL COSTUME PACK 2 (4,99 €)
WO3U_DW7 ORIGINAL COSTUME PACK 3 (4,99 €)
WO3U_DW7 ORIGINAL COSTUME PACK 4 (4,99 €)
WO3U_DW7 ORIGINAL COSTUME PACK 5 (4,99 €)
WO3U_SPECIAL COSTUME 1 (4,99 €)
Bonnes Affaires de la Semaine
Offres se terminant le 28 octobre 2014
Assassin's Creed Black Flag (PS4)
Passe de 49,99 € à 29,99 €
10 % de réduction supplémentaire pour les membres PS Plus
Assassin's Creed IV Black Flag – Deluxe Edition (PS3)
Passe de 39,99 € à 19,99 €
10 % de réduction supplémentaire pour les membres PS Plus
Valhalla Knights 3 (PS Vita)
Passe de 29,99 € à 12,99 €
10 % de réduction supplémentaire pour les membres PS Plus
Zombie Driver HD Complete Edition (PS3)
Passe de 14,99 € à 4,99 €
10 % de réduction supplémentaire pour les membres PS Plus